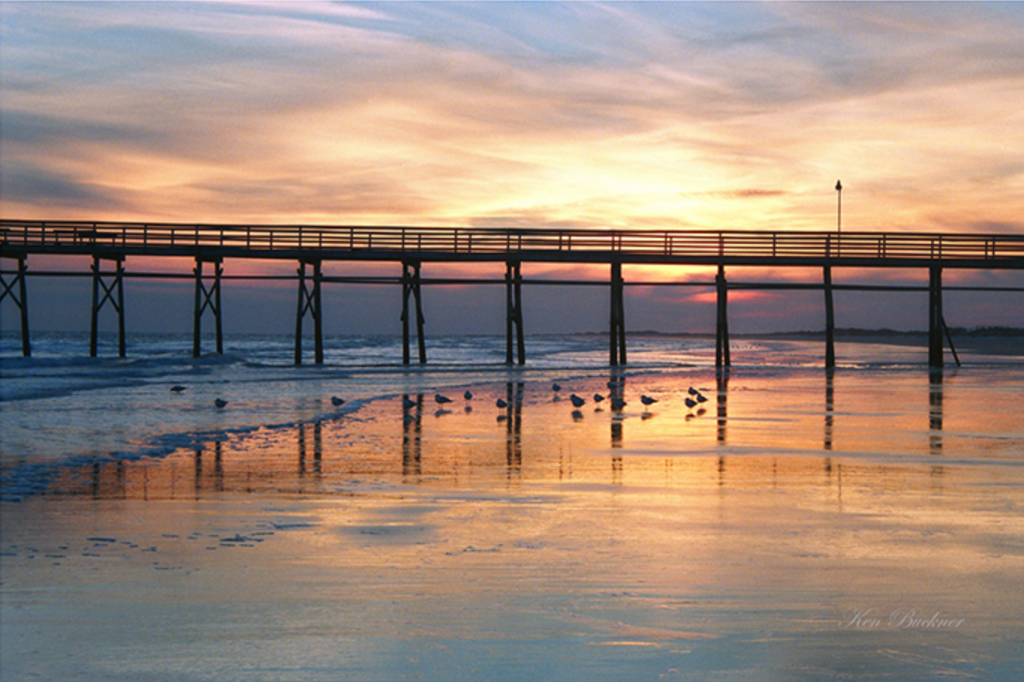 The southern-most of North Carolina's Brunswick Islands, Sunset Beach is only three miles long but it is everything that a family beach should be. As you travel from the mainland, across the calm salt marsh, you'll find yourself entering a relaxed and quiet world of Southern coastal living.
Imagine a day spent browsing through the specialty shops, teeing off at one of the many nearby championship golf courses, or launching your boat for a day at sea. Follow this up with a great meal at one of the many fine restaurants in the area, or by picnicking on your deck while watching the waves roll in.
If you enjoy the idea of visiting or even living in a soothing, slow paced atmosphere then Sunset Beach is your perfect getaway.
Pastel colored cottages and homes nestled by the sea oat covered dunes line the oceanfront. You can lounge on the beach or hunt for sea shells while children build sand castles by the shoreline.
Only three miles long, Sunset Beach is the southernmost of the three barrier islands known as the South Brunswick Islands. However, the Town of Sunset Beach is comprised of several square miles of mainland as well.
The island of Sunset Beach features a white sandy beach with undisturbed sand dunes, a natural habitat and a nesting ground for coastal wildlife of all kinds, including the endangered loggerhead sea turtle. There is a full-service fishing pier on this island, and both island the mainland areas of the town offer shopping centers, grocery stores, small boutiques, dining, golf and the Ingram Planetarium.
Sunset Beach also offers a unique opportunity, a walk to Bird Island. Bird Island was once a separate island accessible only by walking through shallow Madd Inlet at low tide. Today it is connected to Sunset Beach as the inlet has filled in with sand. Bird Island is completely untouched by development as its nearly 1,300 acres of beach, marsh and wetlands were dedicated as a North Carolina Coastal Reserve in 2002 following 10 years of work by the Bird Island Preservation Society to protect it. This designation protects habitat used by several threatened or endangered species, including Kemp's Ridley and loggerhead sea turtles, sea beach amaranth, piping plover, wood stork and black skimmer. Early morning bird walks are conducted during the summer months by persons working with the North Carolina Coastal Land Trust.
The purely natural environment is comforting, a place where people of the twenty-first century can experience life as it was back in the days prior to the development of the land.
Another unique feature to be found on Bird Island is a "Kindred Spirit" mailbox where visitors can leave inspirational messages for others to read and contemplate.